Go-online with IT Niche
Let us get together and first understand your needs, we love to listen about your on-line objectives and goals. You share your wish list with us. Let us understand your immediate objectives and long term goals which you wish to accomplish with your on-line presence. We understand that we have to go through this adventure together mutually learning from each other.
Once we have understood your needs we then start getting into action. Please review our what we do? section to understand our development matrix. Down below is pictorial representation of things we have to work on together. IT Niche has set of task defined and you have a crucial and active role as well. Below diagram depict "How we have to work together" and "what our respective roles are".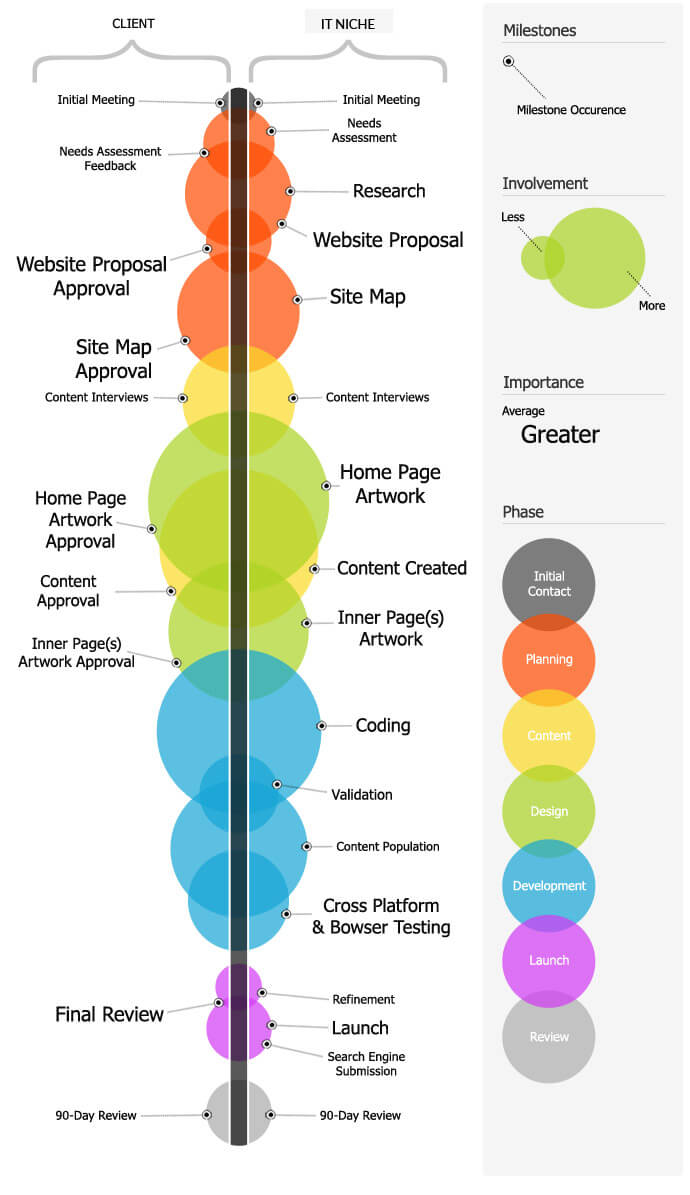 The Process Breakdown
The process of website design and development is full of potential hazards. Miscommunication, failure to moderate expectations, disorganization and undocumented scope creep can appear at any time on the road to building a successful web design experience . Time and budget are at risk throughout. We've all heard the old adage "Failing to plan = planning to fail", and that couldn't be more true in the web design and development process. Fear not, IT Niche has the blueprint for the solution: The IT Niche! Website Design Process Guide.
1 Initial Contact
Our Process Guide begins at the point in which our client has selected for their web design project.
In the Discovery phase we, well, discover. We uncover potential opportunities, discuss look and feel, pontificate on demographics, research the market, perform a competitive analysis, gather content and brand assets, and then begin my favorite part of the entire process: conduct a creative consultation in which we break out the oversized dry-erase board and sketch out ideas.
2 Planning
Our project leads are involved now into planning the entire implementation. We bring in our graphic designer, web developer and programming team to brain storming sessions. Our team then put out a interactive diagram and project task flow chat. We identify all the functionalities, modules, third party tools as needed and in-house scripting and execution list. We schedule the parallel tasks which can be handled by different resources at the same time and chart out a time line for delivery.
3 Content
Approx. Weeks 1 - 6
Once the general architecture (site map) has been approved, we turn it over to our professional copywriters, which means that they work with our SEO team from get go to. The content has to include all the key words, important linking, circular reference etc. Our content team will reach out to schedule informal content interviews with your company's authorized stakeholders in an effort to obtain the most accurate and up-to-date information.
After that point, keyword-rich and compelling website content is created. Once the content is approved, we start the content placement work on the sample we are planning to design.
4 Design
Approx. Weeks 1 - 2
The design stage entails conceptualizing the layout and creating the interface of your new website. Basically we are talking about looks and feel. Aesthetics of presentation is key.
Interactive and art creation team works with the design team who then takes the control of layout creation. Once a home page design has been created our team then develops the look for the inner web page template. We continue with revisions through the design phase until a final, complete design (and content) concept is approved. The output at this time is an image rendering of your future website.
5 Development
Approx. Weeks 2 - 4
Here, the complete, approved website design is turned over from our UI team to our team. They convert the image into a webpage. They make sure that website is W3C compliant and responsive to the smart devices. The output of this phase is basically your entire website which is navigation ready.
This stage involves custom application development (programming/db) for any of the dynamic (functional, customizable) elements that are required for the project. For these reasons, the development phase is often the most time intensive. We do whatever we can do in-house however sometime best solution is third party integrations as well. The output of this stage is fully functional website.
Last step is testing and hosting the site on a live domain which is done just before launch.
6 Launch
Approx. Weeks 1-2
Now since the site is on-line we can start with off-page optimization, things like search engine submission, back link creation, local listing claims and press releases. Basically now we are beyond the go-live date and are working towards making sure that the website is visible and is found on-line.
7 Review
Approx. Weeks 1-2
Our website design team will check on the success of your website post-launch. Since success means different things to different companies, we may use a variety of gauges and tools. If you report or we find anything that could use a tweak i.e. content updates or minor changes to graphics, we'll get it revised quickly. We also offer ongoing maintenance packages that allow you to evolve and develop the website over weeks and months.
After 90 days of the site being live and collecting analytics data, we will schedule a call with you and your team to review the information. Based on what we find, adjustments or additions needed for the site. Why 90 days wait? because it take most search engines to finish their entire crawl and index all the public domain data about 90 days.
At this point it depends on what you are willing to do in terms of investment in your online presence. We offer extensive "Internet Market" packages. We advice an optimal road map to our client which they can chose to execute.